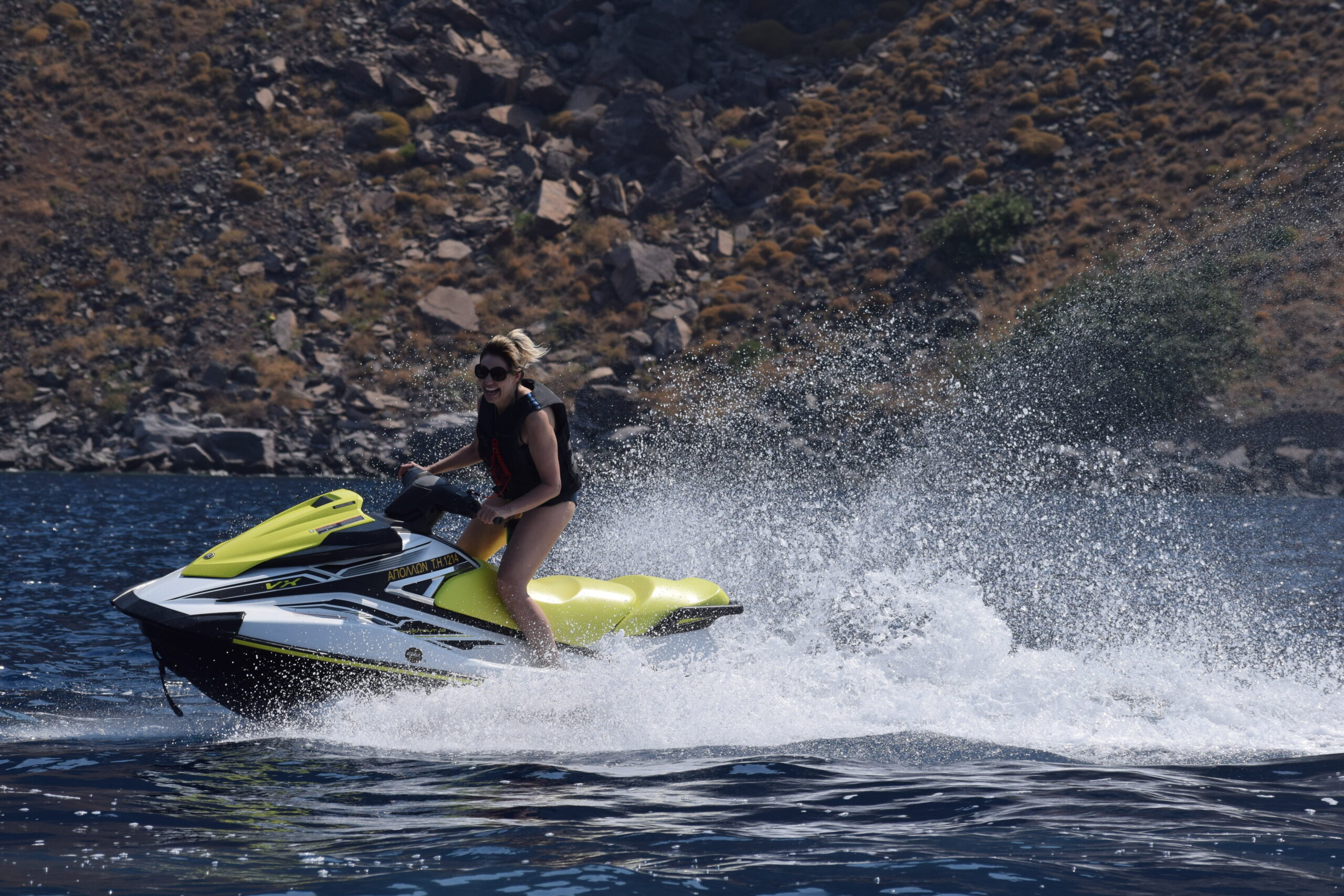 SCROLL
About the Jet Ski Safari...
Our Jet Ski Tours, also known as the Jet Ski Safari is undoubtedly among the best things to do in Santorini. First, choose the tour that fits you best and then get ready to ride away and explore Santorini's mesmerising scenery!
Firstly, the way the tours are operated is as such. Υou ride your own jet ski following a boat, for extra safety and comfort when needed. On the boat, our crew consists of a guide along with a photographer. 
Secondly, we set out and take you sightseeing to all the must-visit places of Santorini, some only accessible by sea.
Lastly, we adjust the tour to your needs to ensure you'll have an unforgettable experience.
The start and end point of the tours is always our main annex on Perivolos beach.
To ensure both your safety and the quality of our tours, larger groups are split into groups of maximum 4 jet skis
No experience needed
If it's your first time on a jet ski, don't worry! We dedicate some time for a training round before your tour starts so that you feel more comfortable.
Safety boat
The tours were designed with your safety in mind. Our fully licensed and experienced staff is guiding you on a safety boat, ready to be of assistance at any time.
Adaptable tours
The tours are made for you and to guarantee your satisfaction we adapt the tour to your needs.
Photo service
We have a professional photographer covering the tour and you can get your photos after the tour. Our professional photographer will follow you throughout the entire tour. Your will be able to view your photos directly after the tour and retrieve them straight to your phone.
Safari pioneers
We have been operating since 1994 and we created the Jet Ski Safari in Santorini, over 10 years ago.
New equipment
Our equipment, including our Jet Skis, is constantly renewed to ensure top quality service.
HOW MUCH DOES IT COST?
All the prices are per jet ski, not per person and each jet ski can hold up to two (2) people
South Coast tour: 300€
Volcano tour: Not available
Grand tour: Not available
HOW LONG IS THE JET SKI SAFARI?
South Coast tour: 90 minutes (70 minutes driving + 20 minutes snorkelling)
Volcano tour: 140 minutes (110 minutes driving + 30 minutes snorkelling)
Grand tour:  200 minutes (170 minutes driving + 30 minutes snorkelling)
HOW DO I BOOK?
You can choose which tour you'd like to book here and then you choose a date, enter your credentials and leave a deposit to secure a booking.
WHAT TIME DOES THE JET SKI SAFARI STARTS?
The tours start either around 11:00am or 16:00pm, depending on the weather conditions and the availability.
HOW CAN WE FIND YOU?
You can find our exact location on the map clicking here
WHAT IS THE MINIMUM AGE?
To drive a jet ski, you must be at least 18 years old.
WHAT DO I NEED TO BRING?
Nothing more than your usual beachwear. A towel is recommended.
DO I NEED EXPERIENCE TO DO THIS?
No experience is needed at all. If you have no experience, we take you out for a complimentary test drive.
CAN I BRING MY OWN CAMERA?
At your own risk, you can bring your own camera but keep in mind, that we have a professional photographer taking pictures of you throughout the tours.
DO WE GO ON THE VOLCANO?
We do not climb the volcano at all as there is no place to dock the jet skis.
DO WE SWIM IN THE HOT SPRINGS?
We do not swim in the hot springs as the the sulphur can damage the jet skis.
HOW MANY PEOPLE ARE ON EACH TOUR?
For safety purposes, we only take up to 5 jet skis (10 people) at a time.
CAN I DO THE JET SKI SAFARI ON A BOAT?
You can join a tour as a passenger on the safety boat along with the guide and the photographer.
The prices are, per person and they include snorkeling and a refreshment:
South Coast tour – 40€
Volcano tour – 60€
Grand tour – 80€
"Fantastic customer services by Kostas and his team! These guys are brilliant and provide a great service and a very fun rememberable experience, Kostas has the best and cheapest prices in Perivolos, Perissa. thank you for a great day we loved it!!"
"It was a very nice experience . All the staff is very friendly and they are very nice people . I really got friends with them . They don t see customers only just as customers , they really want to help you friendly and let you have the best experience , and they are very sincerely when you ask them about the activities you can do depending on the weather. I tried for the first time here the flyboard and I i enjoyed it very much . It is an easy sport but at the beggining you can get a little bit scared . The instructor who taught me was very calm and we had a good connection and cooperation and i think this is the most important thing to count when you want to learn easy . He was patient and taught me very well . I have seen him teaching a girl who was scared a little bit at the first time but he made her fly from the first lesson . So if you think to come and enjoy the watersports , this is the most comfortable and nice place, really."